Which areas require a heavy duty pallet racking?
Views:5 Author:Site Editor Publish Time: 2020-07-27 Origin:Site
What is a heavy pallet rack? What are the advantages of heavy pallet racking? What areas need to use heavy pallet racks? How do we choose the right product for us?

Definition of heavy pallet shelves

Components of a heavy pallet rack

What are the advantages of heavy pallet racking?

What do I need to know to order heavy pallet racks?
Definition of heavy pallet shelves
The heavy pallet rack is a material handling storage system designed to store materials and products that are often palletized or strapped. There are many different styles and manufacturers of heavy-duty pallet racks, but all of them have the same goal, which is to use vertical space to store the pallets off the ground, thereby increasing storage density. Load a pallet or other material onto a pallet rack with a forklift truck specifically selected for this application. Dating back to an early patent of "Pallet Rack US 2577276" around 1948, heavy pallet racks have become one of the most widely used material storage systems in large warehouses, distribution centers, manufacturing plants and other storage facilities.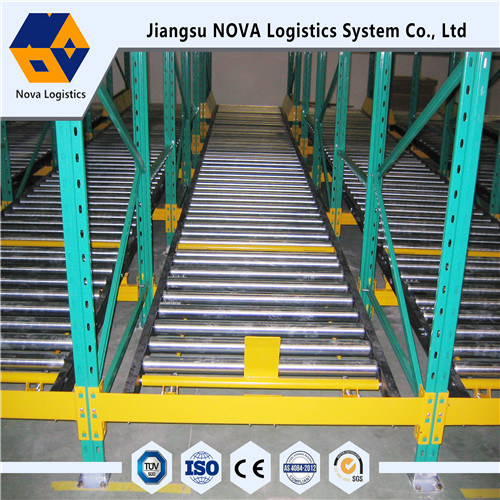 Standard Selective Pallet Racks-This is the most common heavy pallet rack style in today's warehouses. The name "Selective" defines this system well because you can remove any pallet from the system without having to move another pallet to reach it. In this regard, selective pallet racks provide the operator with the most flexible storage options. Almost all pallet shelf manufacturers provide their customers with standard selective shelf designs, although not everyone designs and manufactures the same. The easiest way for manufacturers to identify themselves in other brands is through beam-to-frame connectors. Each manufacturer has a slightly different beam-to-frame connector to distinguish it from other manufacturers. Among them, the "Teardrop" selective design has become the most popular and common design in the warehouse. The name of the teardrop frame comes from the perforated design on the upright frame, similar to an inverted teardrop. These perforations provide space for the beam connector to engage. Although manufacturers are generally not recommended to recommend most teardrop tray shelf brands, they are generally not recommended because they cannot be guaranteed by the manufacturer. Selective shelves are available in roll forming and structural styles to meet the needs of specific applications. Structural design is often used in heavy, rugged applications. Check the heavy pallet rack identifier at the bottom of the page to see what style or manufacturer the heavy pallet rack is.
Components of a heavy pallet rack
1. Pillar frames-Also called "pillars" because they are upright and serve as columns to which the beam can be attached. The post has holes in the front of the post (usually drop-shaped) into which the pins of the beam connector engage.
2. Beams-Connected to upright frames at both ends to create shelves for shelves. Two beams make up a shelf height. Beams come in a variety of lengths and capacities.
3. Trough Decorations-Usually used as a safety measure for pallets stored in heavy pallet racking systems. Decoration not only provides safety measures for rack systems by increasing the surface area, but also improves air circulation and water flow to the sprinkler system.
What are the advantages of heavy pallet racking?
The commonly used storage shelves are almost pallet shelves, because they can freely place pallets. Such as heavy storage shelves, radio shuttle shelves, drive-in pallet shelves and automatic warehouse shelves. In terms of use, pallet shelves can be divided into drive-in pallet shelves and pallet on-site storage shelves. heavy pallet racking is arguably one of the most commonly used racking systems in all enterprises, known for its high load capacity, small size and stability. Adding goods on each layer of different materials and different size pallets, placing the goods on the top of the pallet, not only makes the product easy to access, but also reduces the wear on the surface of the heavy pallet shelf, and ensures storage safety. At the same time, pallets can also reduce or prevent the environmental impact of moisture generated by shelves in contact with the shelves. On three-dimensional shelves, such as drives in pallet racks, radio shuttle racks, and mezzanine floors. In fact, many warehouse managers will place pallets on the shelves where products need to be placed, because these three-dimensional shelves are storage equipment for high-end forklifts and stackers to pick up and inventory. We can easily use forklifts for large-scale storage activities in the following ways Setting labels on each pallet will facilitate inventory management. The tray will not be misaligned when moving it.
What do I need to know to order heavy pallet racks?
1. Do you need to order heavy pallet racks, but are confused about how to start the process? If you are unfamiliar with heavy pallet racks or just want to refresh them, here are some helpful tips to consider before purchasing a heavy duty pallet racking: height and depth. The overall height of the pallet rack depends on two factors:
2. Height of warehouse ceiling (make sure to reduce if ceiling is sloping or uneven)
3. Maximum reach of a forklift or forklift – if the forklift can't reach the top of the rack, it's hard to unload at least!
4. Don't forget to leave a gap of at least 150mm between the top of the tray and the next beam height.
5. The standard and most common depth of pallet racks is 840mm for standard pallet storage.
6. If you have larger pallets, you can choose a 1200mm deep rack.
Weight capacity. A key question to ask yourself before ordering heavy pallet shelves is how much weight do you plan to put on the shelves? The best way to solve this problem is to weigh the heaviest and lightest pallets. If you can tell us that you will store more pallets (for example, you usually store 10 heavy pallets and 4 lighter pallets), we can tailor the shelves for you to ensure product and personnel safety and cost Benefits-You may just need, for example, a light beam at the top of the rack and a heavy beam at the bottom.
Although heavy pallet racking is not an advanced science, the various types in it may confuse beginners and even experienced buyers. If you are looking for a supplier of heavy duty pallet racking that can provide you with high quality products at reasonable prices, Jiangsu NOVA Intelligent Logistics Equipment Co., Ltd. will be a wise choice.